Article from Bruce (CEO Online NZ)
Firstly my heartfelt thanks for all the contributions and comments we get on this site. (over 1,000 per day) lol
Sadly there are too many to load onto the site along with sorting out the spam comments too but I do assure you they are all read and greatly appreciated.
It is also sad that our usual contributor Dick took ill some months ago and he is taking some well deserved 'time-out" and I wish him well for a speedy recovery and this is a public note of thanks for his valuable contributions made on this site.
In the meantime, I will try and keep up the great work he started here. (:
I am often asked "how can I get more traffic to my website"?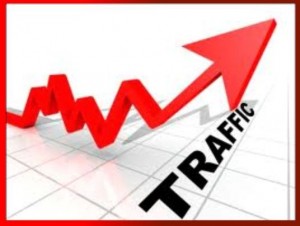 The first thing you need to do is find out how many page-views you are getting on your website currently and also do a comparison with a few of your competitors to see if they are "stealing all the business from you" (:
There are several online tools you can use for this but my preference is www.getwebsiteworth.com.
Simply type in the URL of the site you want a report on and the site will tell you the number of daily visits your site (or your opposition) is getting, averaged over a three month period. It will also show you the Alexa Rank (world wide ranking) and PR (Pagerank) which is a website score given by Google. This PR is scored on several factors: quality of content, site optimisation, number of backlinks and general "authority" the content provides to viewers. I will cover pagerank and alexa rank in more detail in a subsequent article as it is fairly complex on it's own.
High "scores" do not necessarily give you a higher search engine result as the search engines are really smart nowadays and their main focus is to direct the viewer to the most relevant pages that contain the information the viewer has asked for in the keywords. In saying that, look at your content on your pages of your website.
Are the keywords you are targeting on the page? A common mistake … make sure those keywords are used between 2-5% of the content. Don't overdo it as you will be penalised for keyword "stuffing". You can also get some great "keyword ideas" by using www.adwords/google.com as it will show you what key words and phrases are being searched and offer alternatives as well.
Next … make sure your meta tags have the "same keywords". Use them as 'alt tags on images, site title and URL if possible and also in your site description and keyword tags.
Social networking .. As much as we hate it ..lol .. it is necessary! Setup a page on facebook and twitter and place that link on your website … Then ensure you have a social networking "like" button on your site too. This is "gold" nowadays as a "like" is shared among social networking members to their friends as well. Search engines give high favour to them now as they are "human votes" in favour of your site against "spammy links" done the old way as previously mentioned. In addition, your website is promoted amongst a group of friends too. That makes sense to me (:
Visual Appearance and Great Value .. make sure that when you get visitors to your site you have enough compelling information on there that will keep their interest so they will look around your other pages and return again in the future … Also make sure you have content that changes too on your site as it encourages your visitors to return and see what is new.
Now here is a statement that you may find hard to believe. Traffic does not only come from search engines!
I have tested many theories over the years and whilst I am an optimisation specialist, I am also an Internet Marketer. I set myself a goal as a test … I wanted to see if I could gain awesome traffic to one of our websites without totally relying on the search engines … The site has been running for three years and is now getting around 5 million page views a year!!! It now has a great PR of 5 and search engine referrals are only around 2%. It has NO recognised "backlinks" either.
This is an awesome result, but I wouldn't advise you to "try this at home" lol.
It is mainly based on referrals from other sites, reader referral, site submission and article submission to sites like http://ezines.com/ (ezine articles). If you click on the image to the left, you can see the results. This proves that this form of marketing works well too.
Youtube Videos.. Whilst I don't use this method a lot myself, it is another great way of generating more website traffic.
Set yourself up a youtube channel and do some presentation videos and don't forget to use your keywords in the titles and descriptions. It is quite amazing how the search engines give a great deal of favour to youtube videos too.
Here is the secret, if you are a plumber eg, dont use the video to say how good you are .. Instead use it to demonstrate to your viewers on ways to "do-it-yourself" eg "how to change a tap washer". You will get more views and at the same time get yourself known as "the good guy"
Blogs .. It is now a highly regarded tool for website traffic. Setup a blog section (like this) on your site and submit regular articles (blogs) that are relevant to your viewers and your line of business. Search engines generally index them quite well too nowadays and you should see a lot of referral traffic from other forum type sites as well.
Contribute to other forums and blogs that are high page ranks and where they allow it, place a "back-link" back to your own site.
Timing .. sadly all this does not happen overnight. It takes hard and consistent planning and work to get the best results.
Search Engines generally take a year to give your website any true value which is how they avoid sending traffic to a spam site which comes and goes just as quickly. You can speed up the process by ppc (pay per click) advertising as it gives immediate results and are often worth using to get your site "humming" a bit quicker.
I would also highly recommend you get your website built by a specialist as they quite often know ways of getting your website found quicker and easier with site submissions, sitemaps, directory listings, etc.
Marketing: List your website in as many online directories as you can .. most are free eg …  Finda, Yellow, DMOZ.
These are great to get more exposure but avoid the spammy offers that entice you to submit to a zillion directories for one dollar (:  They will get your site penalised as they are usually from spammy "link farms" known to google etc and more often than not, your inbox will be full of junk mail within a week as they target you for advertising. ):
New Zealand clients are strongly advised to get a listing on www.olnz.co.nz as it is truly the "silver bullet" in getting more website traffic. They are offering to at least double your website traffic within 90 days for around $8 per week… GUARANTEED!
The system is unique and it really does work.. How do I know? Because I designed the system.. lol.  It creates a unique "association" with the client's site and all the "goodies" that olnz have achieved .. eg PR5 (top 0.05% in the world) and high alexa rankings (top 0.02% in the world) are shared with their clients. The site currently gets 22,000 visits a day and additional traffic is generated to your website. They also offer free listings but the value to you is not so great that way.
Offline: You MUST advertise your website where ever possible in your own area. eg on your signage, your stationery and advertisements. This will drive local traffic to your site which is often overlooked.
I trust this has been of value to you and I welcome back again .. We try and share as much useful information as we can
Regards
Bruce