EMAIL MARKETING
Working as an Internet Marketer, my job duties touch upon email marketing. I'm quite interested in this subject, that's why I decided to ask some of my friends (not related to marketing) how they understand the concept of email marketing. Most of them were pretty sure that it concerns the letters that fill in the spam box daily and nightly…
On one hand they are right because, lots of "companies" that attract users with six figure income (and pay not a single cent) use most advanced email marketing techniques, thus undermining the authority of respectable methods.
On the other hand email marketing and mailing spam are absolutely different concepts even though in both cases:
email reaches your inbox;
both emails may have fatty subjects;
emails contain information about specific product or services, either digital or physical.
The first and the most important differentiation of email marketing from spam is the user's agreement to receive e-mails. When creating a database of email recipients, spammers use any opportunity to get as many addresses as possible. They buy ready-made databases, steal emails, use grabbers to find them wherever they can. As for email marketing, the user gives their permission (to be sent an email) either during registration or when signing up to a website. Without user's assistance there will be no automatic subscriptions.
The second thing is the quality. Legitimate email newsletters presume that the user will get some interesting and useful information, while spam email can consist of just a single line of text like "Cheap Medicines". Newsletters are as a rule beautifully arranged, formatted, decorated with nice pictures, videos and lots of other content.
The third thing is personalization. The line "To": will contain only your address and not a heap of other email addresses. In a legit newsletter you're either addressed by the name or "Dear Reader", in spam mail nobody will greet you. Every legitimate newsletter gives an opportunity to unsubscribe, because every self respecting company will not impose its services.
Email Marketing Metrics to Keep an Eye On
If you are running an online business you definitely need to have a newsletter, because it's a "first defence line" of your products. If you have thousands of subscribers there is a serious possibility that some of them may react positively and obtain your product after reading your newsletter.
When you start a newsletter you need to keep an eye on several metrics that represent success of your online campaign. Let's have a look at them:
The size of an email database
This amount includes the general number of email addresses from your database. It's extremely important to grow the amount of subscribers, because it is known that newsletter databases stales with a rate of about 25% per year. Even if it looks like your database number is constant, in fact it's getting smaller and smaller.
Email newsletter refuse rate
This metric helps to estimate the percentage of people who choose not to get more of your messages by clicking the "Unsubscribe" button. If this value is quite high – usually more than 5% – you should take steps to segment your list based on the demographic principle, according to all parameters that are relevant to your business. This allows you to have more targeted mailing lists and offer much more valuable information to interested subscribers.
The rate of successfully delivered emails
This number shows the amount of you newsletters that actually reached the inboxes of your subscribers. A low level of undelivered letters can indicate of a low level of Sender Score.
Percentage of opens
How many of your letters do people open and read? The more recognizable your company is, the better users treat it and the higher this rate is.
Click-through rate
In email newsletter the CTR shows the amount of people who received your email, opened it and clicked the link. Use this metric to understand how your target audience values your proposal, as well as how well you position the links to your website.
Conversion level of your email campaign
This metric shows the ratio of the letters which converted into target contacts and sales. Use this to compare the current email-campaign with previous periods. A higher percentage of conversion indicates correct targeting and high quality proposal for your audience.
9 Commandments of Email Marketing
Let's start from the most important information, which is only about email marketing: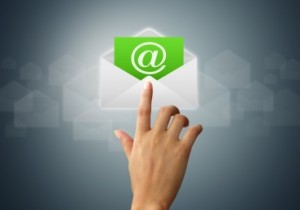 Send emails only to those users who personally subscribe to the newsletter.
You need to include the content which user subscribed to.
Be consistent with the frequency of sending emails: 1 day a week, once in two weeks, once in a month, etc, and always stick to it.
It's better to send emails to your customers and users somewhere between 5 PM and 8 PM, on Tuesday to Friday, or on Saturday's afternoon.
To increase productivity, add a message to the top of your e-mail, which says something like this: "To ensure you receive our emails, please add ourname@here.com to your address book."
The field *From* should contain the name of your company or a person responsible for the newsletter. Subscriber has only a few seconds, to decide whether to open the letter or not.
Be sure to include two versions of newsletter writing – plain text and HTML-version. If you send an HTML-only version of the letter, 5% of subscribers do not read it.
Do not use all caps or multiple exclamation marks in your subject or message body. Doing this will often enable spam filters and your email will not reach the destination.
Create subscriptions with different topics. Create a general newsletter and for each section separately. Not all subscribers wish to receive information with the subject they are not interested in.